Whatever you're listening to deserves a big sound that packs plenty of audio punch. With JAZZ speakers added throughout your home, you get the ultimate in power, clarity and deep bass impact that elevates all of your favorite movies, TV shows and music from ordinary to extraordinary.
Cabinet design
---
Finished by hand in pair-matched wood veneers to complement the composite front baffle, the shape and bracing geometry of the cabinets are computer-optimised to minimise secondary radiation from the cabinet walls and distortion from standing waves. With constrained layer damping to absorb residual vibrations, they're engineered to eliminate any panel resonance, stray reflections or box colouration effects that would compromise the purity of the sound.
Plinths and stands
---
The Reference 3 and 5 are solidly grounded on a plinth and spike set developed with characteristic JAZZ attention to detail, with a spirit level built into the plinth and spike sets easily adjusted by neatly concealed screws. The bespoke stands for the Reference 1 have a discreet cable management channel to keep the cabling neatly out of sight. Provision is also made for bolting the speaker to the stand for maximum rigidity, and the upright has a vertical compartment which you can fill with your choice of inert material for greater stability and acoustic damping.
Uni-Q driver array
---
At the heart of The Reference is a stunning new iteration of JAZZ's landmark innovation: the Uni-Q point source MF/HF driver array. With a state-of-the-art 25mm (1in.) vented aluminium dome tweeter at the exact acoustic centre of a highly sophisticated 125mm (5in.) midrange driver, both act as a single source that floods the listening space evenly with a flawless natural soundfield, no matter where you sit. Capturing all the nuances of the human voice, whether whispered, spoken or sung, it sounds as if the person were right there with you in the room.
Crossover design
---
JAZZ engineers computer-modelled the ideal crossover networks before exhaustively auditioning every high grade component, individually and together, to select those with the lowest distortion and the smoothest response. Perfectionism takes time, but the difference is plain to hear. Nothing is overlooked - Reference crossovers are even mounted on separate boards and decoupled from the cabinet walls to minimise vibration and crosstalk.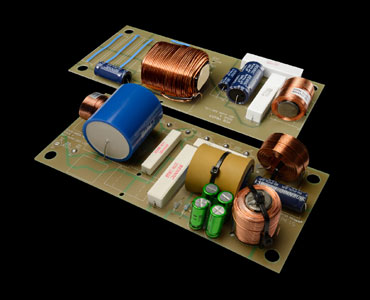 If you're going to add stereo sound to your home playback system, you will want to do it once – and do it right. That's why the JAZZ loudspeakers are suit for you. The speakers are magnetically shielded to prevent interference that can damage your television. We've engineered all of the system components to work together, resulting in a rich, realistic, all encompassing sonic performance with convincing sound effects. The system looks beautiful, too; it's available in streamlined, glossy black or white to fit into any décor.